Artwork & File Setup FAQs
Download our Print Templates to create your artwork with the correct print specifications.
Please review the specifications and tips below before uploading and/or sending your files. This will help us save you time during the proof and pre-press process. If you have any questions feel free to contact our art department: art@mcprintdirect.com
Acceptable (Artwork) File Formats
.PDF
.AI
.EPS
.INDD
.PSD
.JPEG
.TIFF
*Files MUST be saved in CMYK color mode
- Vector art must NOT be flattened (rasterized into an image)
- Images must be saved at 300 dpi or higher at final size
- Note that images (.jpeg,.tiff) are acceptable but may not print with as high quality as other file formats
- Embed all linked images
- Outline all fonts (If text needs to be edited please package your fonts)
Acceptable (Database) File Formats
Database files are required for EDDM and Direct Mail orders. All database files submitted must listed in one of the following layouts:
Option 1
| | | | |
| --- | --- | --- | --- |
| Adressee (Ex. Business or First Name/Last Name) | Address Line 1 | Address Line 2 | City, State, Zip |
| Text | Text | Text | Text |
Option 2
| | | | | |
| --- | --- | --- | --- | --- |
| First Name/Last Name | Company | Address Line 1 | Address Line 2 | City, State, Zip |
| Text | Text | Text | Text | Text |
Option 3
| | | | | |
| --- | --- | --- | --- | --- |
| Last Name/First Name | Company | Address Line 1 | Address Line 2 | City, State, Zip |
| Text | Text | Text | Text | Text |
*Note: First name and last name must be in the order that you want it to appear on the printed product.
For example, if you want a First Name, Last Name display then "First Name" must be in the column before "Last Name".

Vectors V.S Images


Vector art is created in vector-based programs such as Adobe Illustrator (.AI). It is highly recommended that the artwork you send contains vector art instead of images (Images of people, places, etc. are exceptions). Logos, text and some graphic elements are usually in vector format.
Resolution
Vector artwork is the best format for printers because vector art can be infinitely scaled while keeping the highest resolution. Images, on the other hand, will become pixelated with low resolution when enlarged.
Color
Vector artwork colors can also be easily edited which is sometimes necessary for printing and achieving richer colors. When printing notepads, all black artwork needs to be at 100% K for the truest black. Vector artwork can be changed to 100% K but images cannot be changed.
NOTE: Some designers convert their vector into images and save it as a .AI or .PDF file format. These formats usually contain vector artwork so it is easy to mistake it for vector. Unless you own a vector-based program to open the file you will not be able to tell if it is vector. Send your file to our Art Department at art@mcprintdirect.com and we will confirm if it is vector or not.
What if I don't have vector artwork?
Many other file formats may still be accpetable but they may not provide the best quality for print. Our Art Department will confirm if your files are acceptable. Images can also be re-created in vector format. Depending on the complexity of your artwork we may be able to re-create it free of charge.


Margins are the borders in which no artwork can be placed. It is the area where printers and presses feed the paper. It is standard for our notepads to have margins/no bleeds (similar to the example below). If you would like artwork printed to the edge you will need to add full-bleeds to your notepad order.
Bleeds are the solution to printing to the edge of the final product. A bleed extends past the final size and is cut after it is printed. This is an option that can be added to many products or is already included. In order to print to the edge, files must be setup with bleeds. The bleed is usually 1/8" (.125"). Non-important text and artwork should be in the bleed area.
Our Print Templates are already set up with the correct margins, bleeds, and/or saftey areas for each product.
Safety Zone
Saftey zone is the space where all your important text and graphics go. When you order a product with bleeds, this space needs to be utilized so your important information doesn't get trimmed off. All of our print templates mark our saftey areas.
Color Modes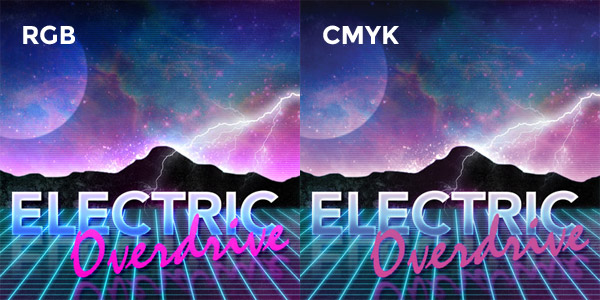 Full-Color Products
Artwork for a full-color product must be in CMYK mode. If artwork is submitted in RGB mode it will be converted to CMYK. This will cause a shift in color as they are not in the same color spectrum. This is why it is important to design in CMYK mode so you can see the colors more accurately. (However color-matching is not guaranteed. View our Terms and Conditions for more info.) All PMS and Spot colors will be also converted to CMYK.
1-Color (Black) Products
Artwork must be saved in Grayscale mode.
1 & 2 Color Products
Artwork must only be in 2 process (C,M,Y or K) and/or PMS colors. For Ex.) K & PMS 185, PMS 072 & PMS 207 or C & K. View your "Separations" tab in Adobe InDesign and Illustrator to view your colors.
*NOTE (BLACK/GREYS): If your notepad artwork contains any black or shades of black please make sure only the "K" color value is used. 100% K is our truest black for all standard print notepads (This does not apply to digital qualifying notepad orders). Please note that blacks in images cannot be edited and may not achieve a rich black. View the Vector v.s. Images section above fore more info.
Image is a digital (not exact) representation of the appearance of different types of fonts at various sizes
Recommended font size is 8pt. Be careful as some fonts may not be legible at this size. See below Script/Thin font section.
Are you using vector-based software such Adobe Illustrator? For vector files such as these all text must be converted to outlines before creating the file (preferably PDF) you send us. If you are planning to have our art department make changes to your text please package your fonts or send them along with your artwork.
Please also note that small text that uses 4 process colors may be more difficult to register because of the size. It's recommended that small text be one process color such as black.
Script/Thin Fonts must be used carefuly in your artwork. While they may look good on your computer screen they can get lost when printed. Here are a few tips to make sure your fonts print well:
- Avoid using very thin fonts against solid backgrounds as they may not be legible when printed
- Using thin fonts at a small size may not print well, even if they are at the suggested 8pt minimum size
- Lines should generally be at least .25 pts thick.


Do you have lines on your piece? All lines should be at least .25 pts thick to make them printable. Thinner lines may display on your screen but be too thin to print.
Does you piece contain a graphic or artistic border close to the paper edge? See related Bleed section above. When paper is trimmed there is a cutting tolerance of 1/16" which may result in uneven borders. For this reason we do not recommend borders. However, if they are necessary in your piece, the border should be at least 1/4" thick and at least 3/8" from the bleed line. Perfect trimming is not guaranteed.